What is FlightPAC/COPE
LEGISLATE, NOT NEGOTIATE
You don't have to live in Washington, D.C. for your voice to be heard in Congress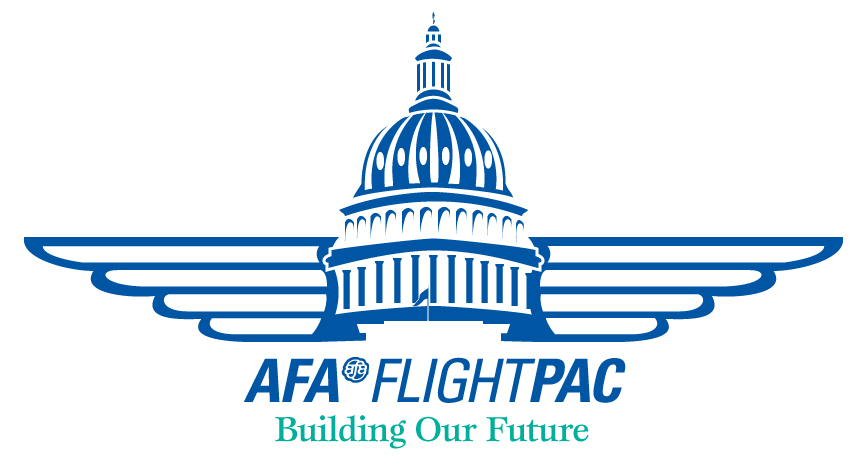 In order for AFA-CWA to maintain our influence in the legislative arena, it is essential to support political programs which complement our legislative activity. FlightPAC, part of CWA's Political Action Fund (PAF), was established in 1982. Dues from our members are never contributed to campaigns. Violations of campaign finance laws can result in civil penalties. Therefore, it is important for AFA-CWA leaders and Government Affairs Committee members to understand and observe the laws and rules which govern PAC's and political activity.
FlightPAC/PAF Contributions are Voluntary. FlightPAC/PAF provides financial support to federal candidates in office who are committed to helping us accomplish our goals.
FlightPAC/PAF is non-partisan. We give to candidates who help flight attendants. AFA understands that not all of our members have the same political/social beliefs. The fact remains that there are issues that affect all members. These include 10 hours rest, human trafficking awareness, the right to collective bargaining, air quality and a host of other workplace related issues.
FlightPAC/PAF is the best way to make your voice heard in Washington. It is the most important tool that AFA has to help elect Senators and Representatives who understand and defend the issues important to flight attendants.

In these difficult and uncertain times, it's more important than ever that we have a strong and powerful voice in Washington, D.C. We must stand together to protect ourselves and our flying partners. Please join us in supporting FlightPAC today!
For more information, we invite you to visit the Legislative Issues section of our website.
SIGN ME UP!

Click here to download the FlightPAC Payroll Deduction Authorization Form.
Mail the completed and signed form to:
AFA-CWA FlightPAC
501 3rd Street NW, 10th Floor
Washington, DC 20001-2760
Page Last Updated: Feb 06, 2017 (14:05:37)